ODS to PDF
Convert online and free ODS to PDF
Uploaded filetype:
Choose filetype:
Advert:
ODS files ("OpenDocument Spreadsheet") come from the free OpenOffice software "Spreadsheet" (similar to Microsoft PowerPoint), which is usually used to create slide shows. The file format allows subsequent editing of these files within the software. pdf ("Portable Document Format") are a widely used standard format for text documents (with or without graphics) for the greatest possible portability, as they can be read by almost any standard device on almost any operating system. Files in this format cannot be subsequently edited without great effort. PDF files are also reliably protected from viruses. There are many reasons for converting to PDF format. If you want to send a presentation file for viewing by e-mail, the portable format is ideal, as it can be opened by almost any recipient on any device without additional software, which cannot be guaranteed in the original working format of Spreadsheet. In general, the portability of the PDF format plays a major role, especially for mobile devices such as tablets, cell phones or e-readers. The conversion can also be useful if the document in question is to be published on the Internet. But the PDF format is also suitable for communication with public institutions or authorities, as it can be ensured that no virus-infected data is sent. Especially if the document in question is no longer to be edited afterwards, the conversion is recommended. Conventionally, the conversion is not very easy, since in some versions of OpenOffice there is no function to save a file in PDF format. The only remedy here is usually additional software extensions, which on the one hand can result in additional costs, on the other hand it can quickly become very time-consuming. We would therefore like to suggest a professional alternative with the help of our online converter. Just upload your .ods file and choose .pdf as the target format. Your converted file will be ready to download after a few seconds.
Guide: Convert ODS to PDF online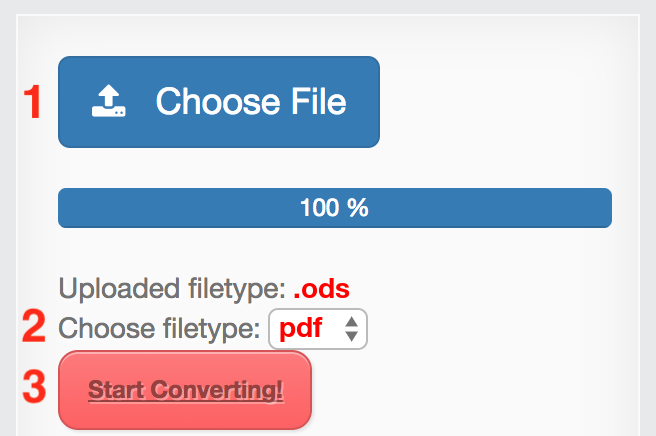 Choose input ODS file
Check target filetype and change if required (PDF)
Hit the "Start Converting!" Button
That's it! Your download will start automatically on the following page
Currently we support the following conversions with ODS files:
All Converters
Information about the extensions for the conversion from ODS to PDF
From: ODS
Open Document Spreadsheet (ODS) files use a standardised XML-based file format to make it easier to share documents using open-source software. Column, row and cell calculations are included in the file data as well as text and graphics in what is al …
File extension:
.ods
More information and converters for ODS
To: PDF
Created by Adobe software including Acrobat, Capture, Design or other open-source printing shareware, Portable Document Format (PDF) files simplify portability. Designed to include all the captured printed elements of their source, PDF-files can be v …
File extension:
.pdf
More information and converters for PDF
Video-Tutorial: ODS to PDF
File-Converter-Online.com is a service for converting files online from one type to another. We take care of your privacy and take care of your files. As a part of this, there's no registration required on file-converter-online.com. As we're offering our service in a browser, it does'nt matter whether you use Windows, Apple OS X or Linux. Your conversion results will always be at the same, very high quality and of course, without watermarks.